Serviced offices and coworking in Mülheim at Work Inn
Get to know the possibilities that the Work Inn Mülheim offers you. With its 1,000 square meters and the design in 8bit Games Style, every gamer's heart beats faster! The location at the end of the pedestrian zone and directly on the banks of the Ruhr is simply convincing. At noon you can choose from a variety of gastronomic offers. When you enter the location, you'll be right in the pulsating heart of the space: The cool lounge with café area invites you to relax – this is where the movers and shakers and visionaries of Mülheim and the entire Potts can network. In addition to various coworking areas and breakout areas, you can expect a light-flooded seminar room and a top-equipped meeting room as well as small and larger individual and team offices. High-speed internet, print on demand and organic hot drinks are available on site.
Coworking Spaces
Basic
Flexible workstations in the community area and open space – with 24/7 access for planners
Professional
The Basic features with more flexible conditions – for optimal networking
Premium
Coworking with your own desk in a lockable unit
Office Spaces & Hybrid Work
Offices
24/7 access to the open workspace.
Corporate Coworking
The flexible solution, tailored to you and your company – we will be happy to advise you!
Virtual Office
Business address, corporate headquarters and coworking.
Discover modern working landscapes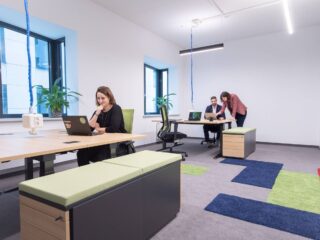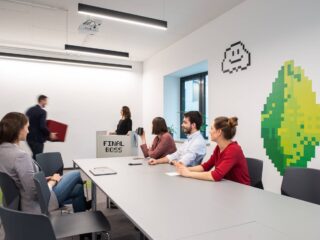 Working centrally at the Mülheim site
Friedrich-Ebert-Straße 33
45468 Mülheim an der Ruhr
Frequently asked questions about our partner locations
With our Partner Spaces you now have even more professional coworking spaces at your disposal. This huge network gives you even faster access to professional workspaces and flexible offices all over Germany. The partner spaces are exclusively selected by us and offer you the highest professionalism and a comprehensive service.
At the moment this is not possible, but we are working hard to make sure that you will soon be able to work in our partner locations with a SleevesUp! membership.
You book a coworking workspace or an office in one of our partner locations via the email or phone number provided on the space page. Of course you can also contact the SleevesUp! team and we will forward your request.