Serviced offices and coworking in Dortmund Stadtkrone at Work Inn
A heavenly working environment awaits you at the Work Inn Dortmund Stadtkrone-Ost. Super transport connections, a chic new building with air conditioning and top local amenities – here you can work in a perfect environment. We have plenty of opportunities for you to get your work done in a relaxed manner. For example, there's the cool and spacious open space for classic coworking. You can use the bright office units alone or with small to medium-sized teams. We also have a seminar and workshop room for you, which will take you on a journey through the clouds. If you have your lunch with you, you can enjoy it in the cozy lounge in a relaxed atmosphere. High-speed internet, Print On Demand on hot and cold drinks in organic quality are on site for you.
Coworking Spaces
Basic
Flexible workstations in the community area and open space – with 24/7 access for planners
Professional
The Basic features with more flexible conditions – for optimal networking
Office Spaces & Hybrid Work
Offices
24/7 access to the open workspace.
Corporate Coworking
The flexible solution, tailored to you and your company – we will be happy to advise you!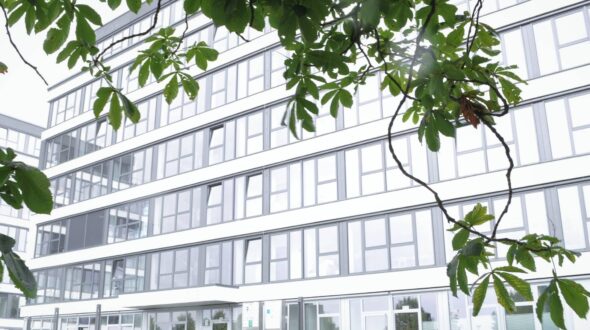 Virtual Office
Business address, corporate headquarters and coworking.
Discover modern working landscapes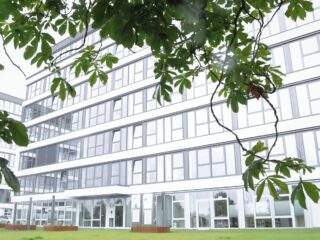 Work Inn services on site
Professional business seat
Representative business address and company headquarters
Variable contract terms, flexible adjustment of office space requirements
High quality, sustainable furniture
Such as Vitra, König + Neurath, Viasit
Hygiene and safety measures
Hygiene and safety measures
High speed WLAN, printer, scanner and copier
Fully equipped galley kitchen
Crockery, coffee machine, tea and water
Upscale equipment with professional infrastructure
Community events on site and at various locations. Exciting events and get-togethers organized by Community Management
Hot and cold drinks in organic quality
Available for a fair price, hot drinks flat rate can be added
Central work at the Dortmund Stadtkrone Ost site
Work Inn Dortmund Stadtkrone Ost
Freie-Vogel-Straße 369
44269 Dortmund
Frequently asked questions about our partner locations
With our Partner Spaces you now have even more professional coworking spaces at your disposal. This huge network gives you even faster access to professional workspaces and flexible offices all over Germany. The partner spaces are exclusively selected by us and offer you the highest professionalism and a comprehensive service.
At the moment this is not possible, but we are working hard to make sure that you will soon be able to work in our partner locations with a SleevesUp! membership.
You book a coworking workspace or an office in one of our partner locations via the email or phone number provided on the space page. Of course you can also contact the SleevesUp! team and we will forward your request.