Opening Q4 2024
SleevesUp! Coworking Frankfurt Hauptbahnhof
Baseler Straße 46-48, 60329 Frankfurt
Request
SleevesUp! coworking Frankfurt central station – rent flexible offices in the Frankfurt metropolis
Find the right Coworking Workplace or a modern Team office for you. From the end of 2024, SleevesUp! will offer dynamic companies exclusive access to productivity-enhancing workspaces directly at Frankfurt Central Station in the Kreisler Building. The new coworking and office location of SleevesUp! is extremely attractive for established companies, project teams and employees alike.
The glass fronts of the new building, the professional business environment and the modern design of the office space convince companies of all sizes. The new coworking and office location at Frankfurt Central Station features more than 2,297 square meters of ultra-modern office space with glass walls and natural light – without compromising privacy. The conference and meeting rooms are characterized by a productive working atmosphere, creating an ideal setting for workshops and seminars. A professional office infrastructure, telephone booths, on-site staff and other comprehensive SleevesUp! premium services are of course available at the location.
Private Office
Private offices ready for occupancy with full equipment including SleevesUp! services and access to meeting rooms
Recommended for 2-9 people
Office Suite
Flexibly combinable office space for larger teams including SleevesUp! services and access to meeting rooms
Recommended for 10-25 people
By loading the map you accept Google's privacy policy.
Learn more
Baseler Straße 46
60329 Frankfurt am Main
We are happy to help
Opening hours: Mon-Fri, 08:00 – 18:00
Customer Service Manager: Ann-Katrin Hesse
Phone: +49 (0) 69 90 72 01 98-1
The new SleevesUp! coworking location is ideally situated between Frankfurt's main train station and Baseler Platz. Regional and long-distance trains as well as other public transport lines can be easily reached in just a few minutes. For a journey by car, the B44 is recommended.
SleevesUp! coworking is located in one of the most creative and dynamic scenes of Frankfurt. The Bahnhofsviertel convinces with new restaurants, cafés and hotels. This attractive environment is becoming the workplace of the future for companies and offers ideal conditions for successful businesses and motivated employees.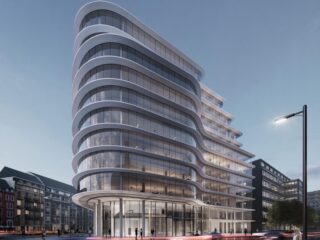 Request now
Contact us for your new office in Frankfurt.