Serviced Offices and Coworking in Aschaffenburg at MainCoworking
MainCoworking is centrally located just a few minutes' walk from the main train station. Thus, the coworking space is quickly accessible for you – both from the city and from the surrounding area. Our representative office space was developed with the support of selected experts in the fields of interior design, workplace design and room acoustics and will be completed in 2023.
You can expect ergonomic workstations, daylight illumination, high-speed internet, a fully equipped kitchen with coffee machines, monitors for members and the possibility to use the ventilated pods for meetings and phone calls. In addition, the approximately 170 square meter meeting/event area offers space for a classic conference situation (up to 12 people), but also the option of row seating with up to 54 seats, seminar seating with appropriate tables or flexible lounge furniture. A separate cooking station for catering or joint cooking events is also available.
Coworking Spaces
Day Pass
1 flex desk workstation
Access from 9 am to 6 pm
Meeting Spaces
Meeting Pod
Acoustically shielded meeting pod
Included: video conferencing solution, high-speed internet flat and printer/copier/scanner
For max. 4 persons
Meeting Room
Exclusive meeting room
Included: flipchart/whiteboard, video conferencing solution, highspeed internet flat and printer/copier/scanner
For max. 12 persons
Event Space
Event room with seating or use
Included: flipcharts/whiteboard, video conferencing solution, 4K beamer with approx. 3x2m screen, highspeed internet flat and printer/copier/scanner
For max. 54 persons
Moderne Arbeitslandschaften entdecken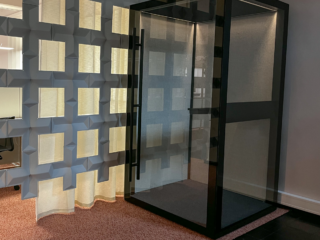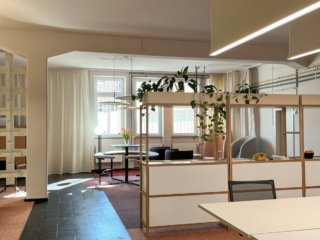 MainCoworking services at the location
1 minute walk from the main train station and less than 10 minutes from the city center, the Main River and parks.
Convenient contract terms
Minimum contract period of 3 months and flexible adjustment of requirements through additional bookable services such as company headquarters, additional day, locker and more
22 workstations on 170 sqm of space with daylight lamps. Equipped with ergonomic office swivel chairs and desks
Hygiene and safety measures
Regular cleaning by professional cleaning teams and video surveillance of the entrance area
High-speed WLAN, printer, scanner, copier and ventilated phone pod
Coffee machine, tea, water and tableware
Functional meeting and event areas
Ventilated meeting pod for up to four people in the coworking area and 170 sq. ft. space for larger meetings and events including WLAN, seating variations, flat screen, screen with projector and flip chart.
24/7 access for coworking members with their own smartphone or code
Modern seating for relaxing or exchanging ideas with each other
Use of coordinated acoustic elements developed with experts in room acoustics
Working centrally at the Aschaffenburg site
MainCoworking is centrally located. No sooner have you left the hustle and bustle of life on foot at the main train station, past street art across the backyard, than you are standing in the impressive rooms of the coworking space on the second floor.
In the other direction, you can reach the Main River, the city center, and cafés and restaurants within a similar walking distance. You'll quickly find places to relax outside in the greenery and by the water, but you can also take a break in Aschaffenburg's old town, meet other coworkers, clients, and business partners for lunch, or switch off after work.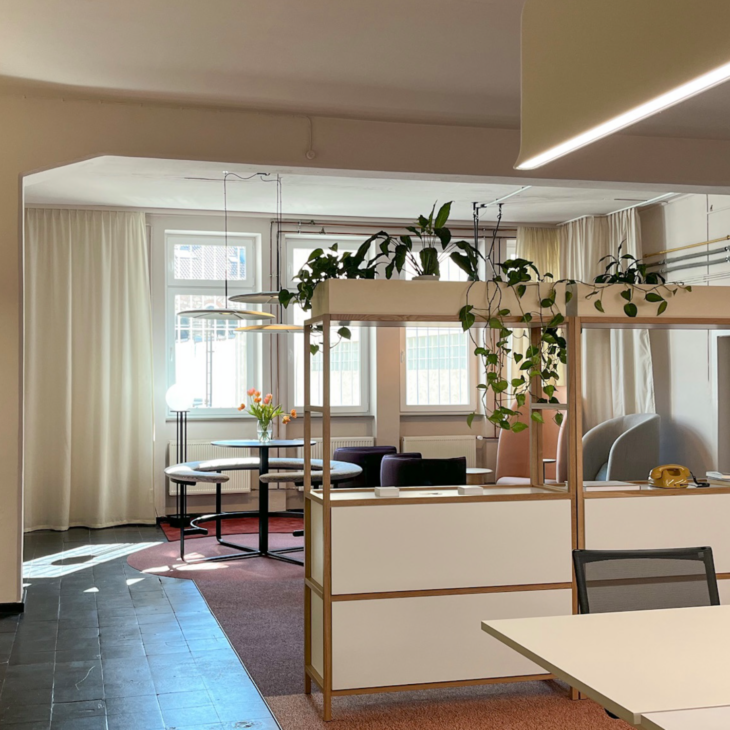 MainCoworking Aschaffenburg
Ludwigstraße 7
63739 Aschaffenburg