Flexible offices and modern coworking in the spa town
Offices and coworking spaces offer sufficient space for companies and project teams on three floors in direct proximity to Bad Homburg City Hall. The modern work environments are equipped with everything you need to work flexibly and efficiently: From ergonomic furniture to state-of-the-art technology. Several meeting and conference rooms are also ideal for your professional business workshops.
The SleevesUp! location in Bad Homburg is right in the center – in the immediate vicinity of the train station.
Coworking on a daily basis – SleevesUp! Day Pass
Ergonomic workplace for a day at the SleevesUp! location
For individuals
Access Mon-Fri, 08:00 – 18:00
Coworking spaces
Flexible office spaces in Bad Homburg
Private Office
Private offices ready for occupancy with full equipment including SleevesUp! services and access to meeting rooms
Recommended for 2-9 people
Office Suite
Flexibly combinable office space for larger teams including SleevesUp! services and access to meeting rooms
Recommended for 10-25 people
Office
2 Desks
770 €
Office
3 Desks
1.150 €
Office
4 Desks
1.550 €
Office
5 Desks
1.900 €
Office
6 Desks
2.250 €
The prices shown are the monthly net prices and do not include the statutory value-added tax.
Discover our Bad Homburg space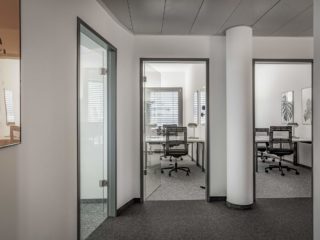 SleevesUp! services on site
Excellent transport connections to all coworking locations
Variable contract terms, flexible adjustment of office space requirements
Spacious desks and ergonomic chairs, lockable storage space
Hygiene and safety measures
Weekly cleanings in compliance with hygiene standards
High speed WLAN, printer, scanner, copier and telephone booths
Fully equipped pantry kitchen
Coffee machine, tea, water and tableware
Whiteboard, flipchart, WLAN and flat screen TV for wireless media playback
24/7 access using your own smartphone
Modern chill-out areas for collaboration and networking
Mobile working throughout Germany
Flexible use of workstations and meeting rooms at all locations
In addition to coworking spaces, SleevesUp! also offers modern meeting rooms for booking.
Flexible premises in the best location
The special feature of the SleevesUp! site is its ideal location with good transport links. The Bad Homburg train station is only 350 meters away and can be reached on foot in just four minutes. Frankfurt Airport is just 20 minutes away by car from the Bad Homburg location. The building is located just a few minutes from the lively city center. The neighborhood offers a wide range of restaurants and numerous shopping opportunities. Thus, the surrounding area provides a complete infrastructure for job and leisure. The idyllic Kurpark Bad Homburg also invites you to relax during your lunch break.
Rathausplatz 12
61348 Bad Homburg vor der Höhe
Wide range of offers close by
The location is in the direct vicinity of the new Bad Homburg town hall and convinces with its modern flair. The Kurpark gardens and Schloss Bad Homburg are within walking distance.
The neighborhood convinces with a high quality of work and life in the midst of a wide range of cultural and leisure activities.
The Bad Homburg train station is only 350 meters away, from where you can reach downtown Frankfurt in 20 minutes. The location offers very good connections to the A661 and A5 freeways.
Let's talk together about what kind of work environment you want for your project.